Nanotextured surfaces with anti-fouling and liquid-repellent properties
Liquid-repellent surfaces have many applications such as self-cleaning, anti-fouling and anti-bacterial coatings. We pioneered a technique involving nanoscale wrinkles to create nanotextured surfaces and infused them with a viscous lubricant to fabricate slippery liquid-infused surfaces. The wrinkled surfaces can be fabricated to be superhydrophobic in air, superoleophobic underwater and superhydrophobic under oil. Our technique allows patterning at length-scales from a few hundred nanometers to several tens of micrometers in a manner that is simple, cost-effective, and rapid.

---
Bioinspired anti-fouling surfaces
Using our nanotextured wrinkled polymer surface, we mimic the lubricating mechanism of the pitcher plant. When infused with lubricant, our wrinkled surface traps the lubricant and becomes slippery; thereby functioning as a bioinspired anti-fouling surface with demonstrated ability to inhibit the attachment of bacteria in vitro and marine fouling in the ocean for up to 7 weeks.

References:
---
Pattern formation via thin film dewetting
The Neto group pioneered a spontaneous patterning technique via dewetting of thin liquid films, particularly dewetting of polymer bilayers. This is based on the understanding of the intermolecular forces and spreading parameter that make thin liquid films stable.
Thin polymer film dewetting has many advantages over other patterning techniques such as micro-contact printing, photolithography and patterned plasma deposition as it is
Simple
Cost effective – the polymers that can be used to produce functional patterns are many, low cost and easily (often commercially) available
Versatile – no restriction on the choice of polymers used to fabricate the bilayers
Scalable and easy control on the dimension of the patterns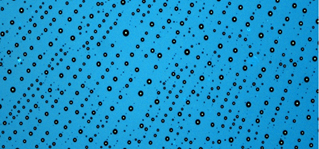 Passive atmospheric water capture
We harness our polymer dewetting technique to create micro- and nano-patterns that passively capture water from the atmosphere. Our pattern generation approach is intrinsically up-scalable, and it could be applied to three dimensional large objects as shown in the image. This technology could lead to the delocalised, large scale capture of water for use for drinking, irrigation and for animals. More details on this multidisciplinary project at https://nano-acwa.sydney.edu.au/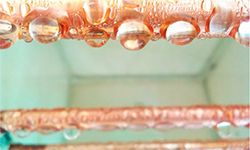 References:
---
Drag-reducing surfaces
We are interested in identifying the interfacial properties that make surfaces slippery.
To study this at a nanoscale, we quantify liquid slip at a solid surface with high reliability and accuracy by squeezing a nanoscale thin films out of a gap between a microsphere and a flat surface in an atomic force microscope (AFM) measurement.
To study this at a microscale, we test our lubricant-infused surfaces in microfluidics channels to study their drag-reducing properties.
Interfacial slip has important consequences for liquid flow in confined geometries, such as in microfluidics devices, porous media and in biological flows.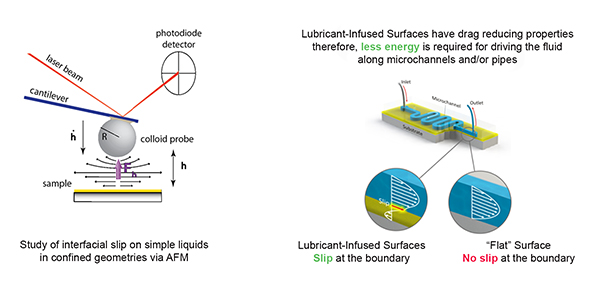 References:
Lee, T.; Charrault, E.; Neto, C. Interfacial slip on rough, patterned and soft surfaces: A review of experiments and simulations. Adv. Colloid Interface Sci. 2014, 210, 21-38. https://www.sciencedirect.com/science/article/pii/S0001868614000724?via%3Dihub
Zhu, L.; Neto, C.; Attard, P. Reliable measurements of interfacial slip by colloid probe atomic force microscopy. III. Shear-rate-dependent slip. Langmuir 2012, 28 (7), 3465-3473. https://pubs.acs.org/doi/abs/10.1021/la204566h
Zhu, L.; Attard, P.; Neto, C. Reliable measurements of interfacial slip by colloid probe atomic force microscopy. II. Hydrodynamic force measurements. Langmuir 2011, 27 (11), 6712-6719. https://pubs.acs.org/doi/abs/10.1021/la104597dZhu, L.; Attard, P.; Neto, C. Reliable measurements of interfacial slip by colloid probe atomic force microscopy. I. Mathematical modeling. Langmuir 2011, 27 (11), 6701-6711. https://pubs.acs.org/doi/abs/10.1021/la2007809
---
Self-assembled monolayer of perfluorinated molecules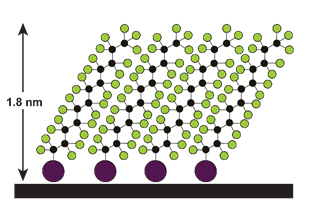 Our group has recently utilised halogen bonding for nanoscale surface modification; more specifically to develop a new family of self-assembled monolayers (SAM). The self-assembly of halogen-bond driven perfluorocarbon monolayers offers a convenient, flexible and simple method to functionalise silicon and other oxide substrates. Our method can be used as a platform for numerous applications, ranging from biosensing to electronics, photovoltaic cells and microfluidics.
References:
Shou, K; Hong, JK; Wood, ES; Hook, JM; Nelson, A; Yin, Y; Andersson, GG; Abate, A; Steiner, U and Neto, C. Ultralow surface energy self-assembled monolayers of iodo-perfluorinated alkanes on silica driven by halogen bonding. Nanoscale, 11 (5), 2401-2411, 2019. DOI: 10.1039/c8nr08195f
Abate, A.; Dehmel, R.; Sepe, A.; Nguyen, N. L.; Roose, B.; Marzari, N.; Hong, J. K.; Hook, J. M.; Steiner, U.; Neto, C. Halogen-bond driven self-assembly of perfluorocarbon monolayers on silicon nitride. Journal of Materials Chemistry A, 7 (42), 24445-24453, 2019. DOI: 10.1039/c9ta04620h
Abate, A.; Dehmel, R.; Sepe, A.; Nguyen, N. L.; Roose, B.; Marzari, N.; Hong, J. K.; Hook, J. M.; Steiner, U.; Neto, C. Halogen-bond driven self-assembly of perfluorocarbon monolayers. arXiv preprint arXiv:1803.05672 2018. https://arxiv.org/abs/1803.05672