Atomic Force Microscopy (AFM)
Atomic Force Microscopy allows to collect three-dimensional high-resolution images of surfaces and to measure intermolecular nano-scale forces, in air, in controlled environment and in liquids. Our group works with two instruments, the Digital Instruments MultiMode 8 and the Asylum MFP-3D.
Digital Instruments MultiMode 8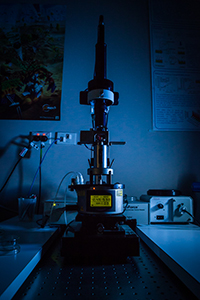 Imaging Modes:
Contact mode
Tapping mode (Phase imaging)
Force modulation mode
Features:
Picoforce closed-looped scanner for quantitative dynamic force measurements
Heater modules for imaging from –35° C up to 250° C.
Atmospheric hoods for operation in controlled environment or gases
Liquid cell for contact mode and Tapping Mode imaging in liquid environments
Litho and MMNISO packages for nanolithography and nanoindentation
Full PeakForce QNM Software Option for enhanced imaging
Vibration isolation table
Nanoscope V controller
For more information visit here.
Asylum MFP-3D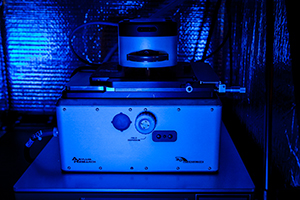 Image Modes:
Contact Mode
Non-contact Mode (Phase Imaging)
Force Modulation Mode
Features:
Sensored, closed loop positioning for high-resolution imaging, accuracy, and reproducibility
All-digital controller for open software adaptability, power and flexibility.
Software features such as real-time 3D and phase rendering
Liquid cell for imaging in liquid environment
Acoustic hood for acoustic and vibration isolation
For more information visit the Asylum Research website.
---
Optical Microscopes
Keyence VHX-7000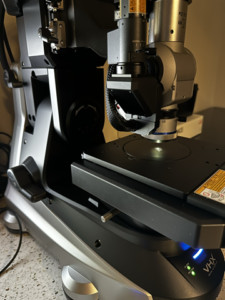 4k microscope with 2000x optical zoom. The VHX-7000 is the premier microscope for topographic analysis at the microscale.
Features:
20-2000x magnification
Transmission and reflection modes
Objective tilt can be adjusted
Motorized stage
Image stitching
Depth profiling
Optical shadow effect mode
Multi-directional lighting
Nikon Eclipse LV150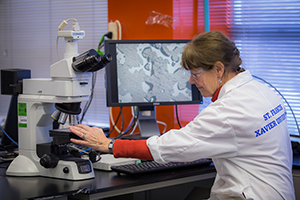 We use an upright reflection microscope together with sample stage and hot stage to investigate the morphology of thin films and surfaces on the microscopic level.
Features:
Objectives 5x, 10x, 20x, 50x with extra-long working distance, and 100x magnification with super-long working distance
10x magnification in the eyepiece
Epi-illumination by 500 W-LL halogen lamp
Nikon Digital Sight 5mp colour camera and NIS Elements software package
For more information visit the Nikon website.
---
KSV NIMA Dip Coater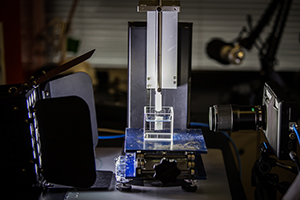 Dip Coaters are designed to deposit layers of materials (polymers) in a controlled and repeatable way, and of various thicknesses, from monolayers to multilayered structures.
Fastec Monochrome High-Speed Digital Camera System with 4GB memory, internal 256GB SSD HDD and led
The Fastec IL3 records ultra-sharp 1280 x 1024 monochromatic images at over 500 frames per second, opening a world of events too fast for the human eye to see. The IL3 can be controlled over Gigabit Ethernet via Fastec FasMotion software or via the built-in web interface with a web browser on PC, Mac, tablet, or smartphone. The IL3 features both a USB port and an SD port for quick and easy image downloads to USB flash drives, SD cards, or portable hard drives. The built-in SSD (solid state drive) provides for up to 512GB of lightning-fast non-volatile internal storage.
Ellipsometry
Woollam M-2000 Spectroscopic Ellipsometer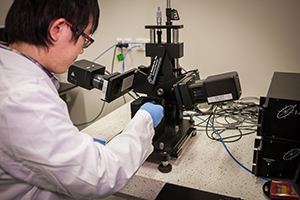 Specroscopic ellipsometry is a powerful optical technique for the investigation of the thickness and dielectric properties of thin films, in a non-destructive and contactless manner. Upon the analysis of the change of polarization of light, which is reflected off a sample, ellipsometry can yield information about layers that are thinner than the wavelength of the probing light itself, even down to a single atomic layer.
Features:
390 wavelengths from 370 nm to 1000 nm
Advanced Rotating Compensator (RCE) design
Manual Variable Angle 45 to 90 degrees
Automated sample height (z) alignment
Collimated Light beam (diameter varies with model: 3-5 mm)
Small Volume Liquid Cell
WVASE32™ software for data acquisition/analysis
For more information visit the J.A. Woollam website.
---
Contact angle goniometry
KSV CAM200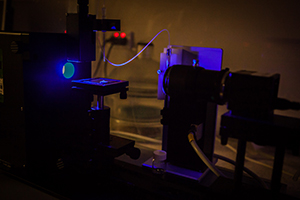 KSV's CAM 200 is a fully computer-controlled instrument based on video capture of images and automatic image analysis for measuring static and dynamic contact angles, surface or interfacial tensions of liquids, surface free energies, and absorption of liquids into porous materials.
Features:
Basic frame with back light and control electronics
60 frames/s camera
One Touch Dispenser, complete with precision syringe
Liquid/liquid contact angle measuring chamber at room temperature
Software for determination of contact angle by sessile/raising drop method with automatic base line detection, surface/interfacial tension by pendant/raising drop method
Image fittings, polynomial, tangent, circular fit, Young-Laplace, including auto-baseline algorithm; and of surface free energy, based on several calculation equations (e.g. Zisman, Simple Fowkes, Schultz)
Standard for lateral calibration of the camera liquid library, up to 100 entries (included in software)
Custom-built Perspex enclosure to reduce acoustic and environmental noise
For more information visit the KSV website.
---
Quartz Crystal Microbalance
E4 Q-Sense
The Q-Sense E4 is the new generation of systems for rapid analysis of molecular interactions at surfaces. Four sensors enable four parallel measurements at controlled temperature up to 45 °C.
Features:
4-sensor chamber enables high throughput and increases reproducibility.
Chambers are specifically designed for controlled flow measurements.
All parts exposed to liquid are easily removed to simplify individual cleaning.
Complete software package for convenient presentation and analysis of data.
The latest electronics and software ensure maximum sensitivity.
---
---
Spin-Coater
We use a Laurell spincoater (model WS-400B-NPP-Lite) to prepare thin and uniform polymer films on solid surfaces, typically silicon wafers.
Features:
Solid natural polypropylene housing with clear ECTFE lid
Capability to process wafers up to 12 cm in diameter
Digital process controller, with programmable speed (100-8000 RPM), acceleration and time
Corrosion-proof configuration
Resistant to acetone, photoresist, developers, and strong acid and bases
---
Plasma Cleaner