Nanobubbles explain the large slip observed on lubricant-infused surfaces
Nature Communications, 2022

Vega-Sánchez, C; Peppou-Chapman, S; Zhu, L; Neto, C
Lubricant-infused surfaces hold promise to reduce the huge frictional drag that slows down the flow of fluids at microscales. We show that infused Teflon wrinkled surfaces induce an effective slip length 50 times larger than expected based on the presence of the lubricant alone. This effect is particularly striking as it occurs even when the infused lubricant's viscosity is several times higher than that of the flowing liquid. Crucially, the slip length increases with increasing air content in the water but is much higher than expected even in degassed and plain Milli-Q water. Imaging directly the immersed interface using a mapping technique based on atomic force microscopy meniscus force measurements reveals that the mechanism responsible for this huge slip is the nucleation of surface nanobubbles. Using a numerical model and the height and distribution of these surface nanobubbles, we can quantitatively explain the large fluid slip observed in these surfaces.
Design Optimization of Perfluorinated Liquid-Infused Surfaces for Blood-Contacting Applications
Advanced Materials Interfaces, 2022

Hong, J. K; Mathur, K; Ruhoff, A. M; Akhavan, B; Waterhouse, A; Neto, C
Tethered-liquid perfluorocarbon (TLP) coatings show promise for blood-contacting medical device applications to reduce blood adhesion and delay thrombosis. However, their fabrication and longevity under external fluid flow is not well characterized. A vapor phase silanization reaction leading to the formation of tethered-perfluorocarbon (TP) layers containing large bumpy aggregates, 300 ± 200 nm thick, on top of an underlying 35 ± 15 nm thick uniform coating is reported. The vapor phase method compares favorably to the well-established liquid phase deposition to reproducibly create slippery coatings on silicon and polystyrene with very low water sliding angles (2° ± 1°), without the need to control humidity conditions. The combination of highly fluorinated TP coatings infused lubricant has the potential to reduce thrombosis in blood-contacting medical devices under flow.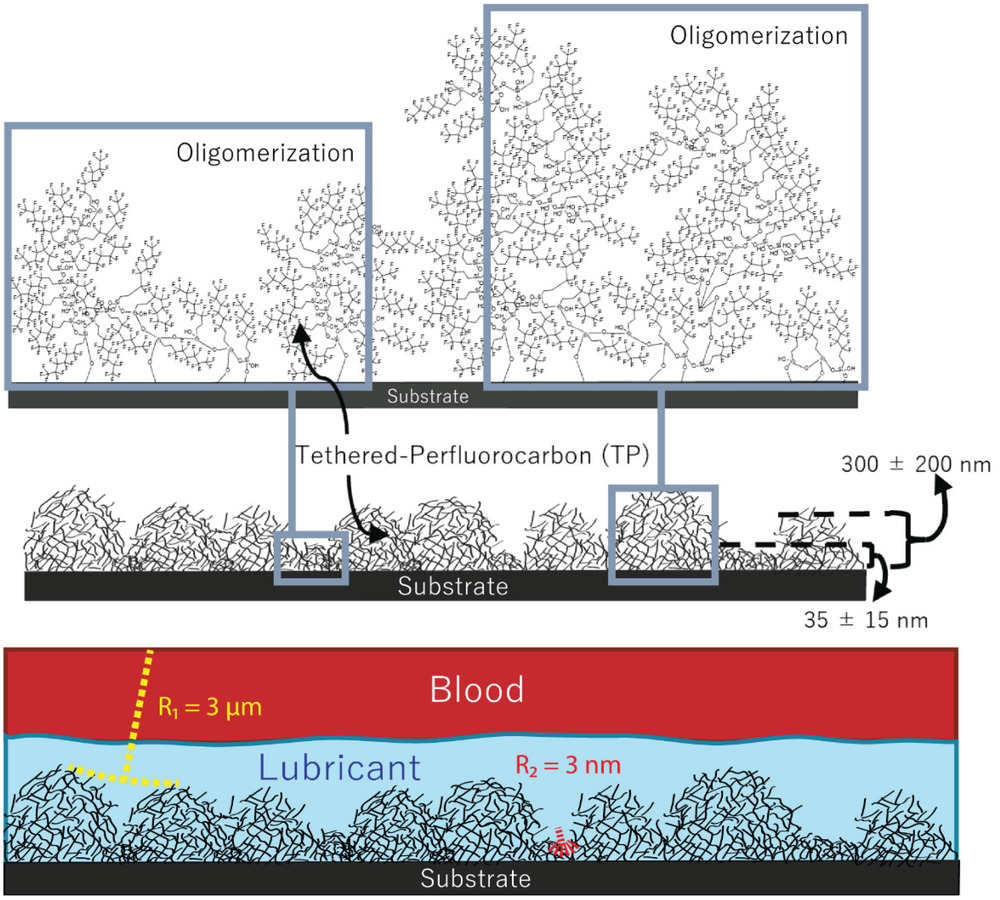 By year
2022
Vega-Sánchez, C; Peppou-Chapman, S; Zhu, L; Neto, C*; "Nanobubbles explain the large slip observed on lubricant-infused surfaces" Nature Comm.. 13, 351 (2022). DOI:10.1038/s41467-022-28016-1 Highlighted by the Editor, 26 Jan 2022.
Hong, J. K; Mathur, K; Ruhoff, A. M; Akhavan, B; Waterhouse, A; Neto, C; "Design Optimization of Perfluorinated Liquid-Infused Surfaces for Blood-Contacting Applications" Adv. Mater. Interfaces, 2022, 2102214. (IF = 6.14) DOI:10.1002/admi.202102214
2021
2020
2019
O'Reilly, C; Motion, A; and Neto, C. Looking Thru the Nano Lens: Art, Science and Nature. International Journal of Innovation in Science and Mathematics Education, 27, (7), 23-33, 2019.
Katselas, A; Motion, A; O'Reilly, C and Neto, C. Chemical Curiosity on Campus: An Undergraduate Project on the Structure and Wettability of Natural Surfaces. Journal of Chemical Education, 96, (9), 1998-2002, 2019. DOI: 10.1021/acs.jchemed.9b00324
Owais, A; Djerdjev, AM; Hook, JM; Yuen, A; Rowlands, W; White, NG and Neto, C. Host-guest interactions of catechol and 4-ethylcatechol with surface-immobilized blue-box molecules. Journal of Materials Chemistry A, 7, (20), 12713-12722, 2019. DOI: 10.1039/c9ta00556k
Scarratt, LRJ; Zhu, L and Neto, C. How slippery are SLIPS? Measuring effective slip on lubricated surfaces with colloidal probe atomic force microscopy. Langmuir, 35 (8), 2976-2982, 2019. DOI: 10.1021/acs.langmuir.8b03767
Colusso, E; Martucci, A and Neto, C. Fabrication of biomimetic micropatterned surfaces by sol-gel dewetting. Advanced Materials Interfaces, 6 (4), 1801629, 2019. DOI: 10.1002/admi.201801629
Tonelli, M; Peppou-Chapman, S; Ridi, F and Neto, C. Effect of pore size, lubricant viscosity, and distribution on the slippery properties of infused cement surfaces. The Journal of Physical Chemistry C, 123 (5), 2987-2995, 2019. DOI: 10.1021/acs.jpcc.8b11221
Shou, K; Hong, JK; Wood, ES; Hook, JM; Nelson, A; Yin, Y; Andersson, GG; Abate, A; Steiner, U and Neto, C. Ultralow surface energy self-assembled monolayers of iodo-perfluorinated alkanes on silica driven by halogen bonding. Nanoscale, 11 (5), 2401-2411, 2019. DOI: 10.1039/c8nr08195f
Vullers, F; Peppou-Chapman, S; Kavalenka, MN; Holscher, H and Neto, C. Effect of repeated immersions and contamination on plastron stability in superhydrophobic surfaces. Physics of Fluids, 31 (1), 012102, 2019. DOI: 10.1063/1.5064817
2018
2017
2016
2015
2014
Ghezzi, M; Thickett, SC; Telford, AM; Easton, CD; Meagher, L and Neto, C. Protein micropattersn by PEG grafting on dewetted PLGA films. Langmuir, 30 (39), 11714-11722, 2014. DOI: 10.1021/la5018592
Lee, T; Charrault, E and Neto, C. Interfacial slip on rough, patterned and soft surfaces: A review of experiments and simulations. Adv. Colloid Interface Sci., 210, 21-38, 2014. DOI: 10.1016/j.cis.2014.02.015
2013
2012
2011
2010
2009
---
Book chapters
Duong, HTT; Nguyen, D; Neto, C and Hawkett, BS. Synthesis and applications of polymeric Janus nanoparticles. Book chapter in: Soft, Hard, and Hybrid Janus Structures. Synthesis, Self-Assembly, and Applications. ISBN: 978-1-78634-314-7. Editors: Zhiqun Lin and Bo Li. Published by World Scientific Publishing Europe Ltd, UK. Chapter 2, pp 31-67, 2018. DOI: 10.1142/9781786343130_0002